Thank God Almighty We Are Free At Last!!!
Martin Luther King Jr. was our big brother. His fearless  voice, choice of words, and creative protests will forever be deeply rooted in our modern world history. It is very important that we celebrate and remember the way his vision touched culture, worldwide.
Here is a guide of 7 Modern Freedom Songs  that we can connect with and rock to in the name of our brother, the Great Dr. Martin Luther King. #NeverForgetMLK
---
Stevie Wonder – Happy Birthday (1980)
Social activist Stevie Wonder wrote 'Happy Birthday' dedicated to Martin Luther King. He thought it very important to honor our Dr.King and never forget him on his special day and if you listen closely to the lyrics he celebrates Dr.King and soulfully with hearty remembrance, sings him Happy Birthday!
---
2. Common – A Dream (2007) 
Common teamed up with WILL.I.AM on his album Freedom Writers and gave us "A Dream" perpetuating the positive idea that one day we will finally 'work it out', and we will…..WE WILL. Common is such a staple in our music community, Big Ups to him. Stay up to date with his duties and work with our youth in America and abroad on his site: http://www.commongroundfoundation.org/
---
3. Kendrick Lamar – HiiiiPower (2011)
https://www.youtube.com/watch?v=RT2ZCdPVLAs
Kendrick's lyrical fist comes down hard in his track HiiiPower. How could you not feel patriotic, empowered and BLACK when listening. We all feel guilty when the feeling of rage and revolt engulfs our emotions when we think on the treatment and injustices in the black community, Kendrick expresses that feeling perfectly in this song:
Visions of Martin Luther staring at me, if I see it how he seen it that would make my parents happy, sorry mama I can't turn the other cheek! They wanna knock me off the edge like a f***ing widows peek!…
---
4. Edo G ft. Masta Ace – Wishing [Produced By Pete Rock] (2004)
Wishing is a song full of hope, a list of needs and wants that all people of color dream of.
---
5. Jay Electronica – Jazzmatazz (2010) 
Jay's version of J.Dilla's Jazzmatazz featuring singer Tone Trezure is a smooth MLK listen.  Jay Elec's voice tells a story about change and the struggle of many cultures. We can vibe out to this one, as we all learn to stay strong.
---
6.  Nina Simone – To Be Young, Gifted, And Black (1969)
https://www.youtube.com/watch?v=h3OIfuVpocU
This song, written by Nina Simone and Weldon Irvine was written for her late friend, playwright Lorraine Hansberry, and with it's strong lyrics, instantly became a Civil Rights freedom anthem. When released in 1970, it became a Top 10 R&B hit. This powerful declaration has been covered by everyone from Donny Hathaway, Aretha Franklin to Elton John- and much sampled in hip-hop.
---
7. Martha Bass- Walk With Me (1980s)
Gospel music was used as a way to freely bring everyone together in song during protests. This Martha Bass cover of a Mahalia Jackson, also featured in the beautiful film "Selma" captures the feel of freedom and strength that motivated Martin Luther King Jr.
---
Enjoy this hand selected compilation of Martin Luther King inspired songs. We are forever free and walking in his image. He would  be proud of our progress, as well as our  strive to KEEP FIGHTING for what's right. We can't give up. Stay positive and take each day one at a time, don't forget his dream. Happy Martin Luther King Day.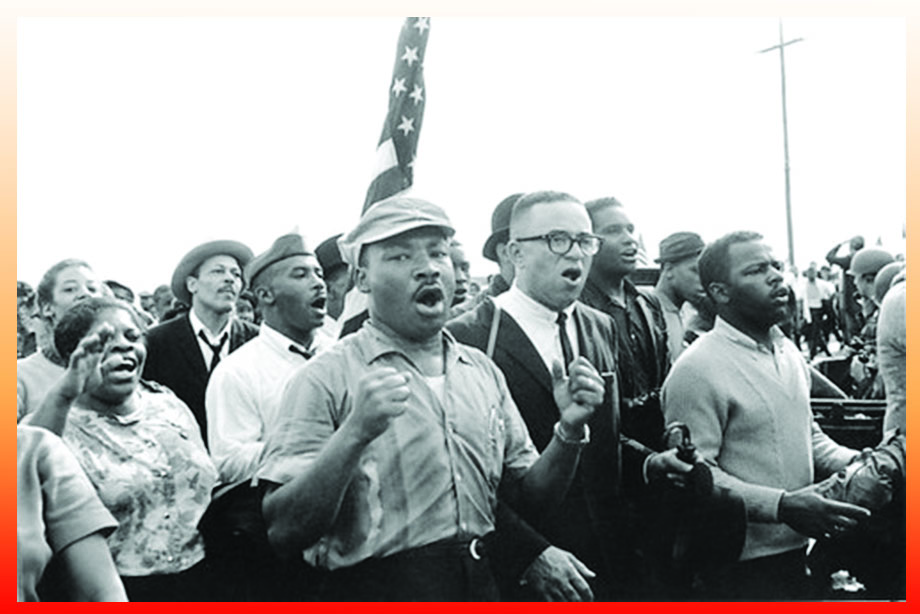 I have a Dream, that my four little children, will one day live in a nation where they will not be judged by the color of our skin, but by the content of their character!